ARCHWAY CUSTOM HOMES IS COMMITTED TO QUALITY.
Our tag line is "Quality That Lasts" and ensuring that your home is built with the utmost quality is our top priority.  We are proud of our association with the 2-10 Home Buyers Warranty Corporation which is a national insurer of homes with a long history of protecting home owners and helping home builders maintain excellent standards of quality.  At Archway, we go the extra mile to make sure our homeowners are covered long after the sale.
Archway Custom Homes is a member in good standing of the Greater Atlanta Home Builders Association.  Both of its principals are licensed residential contractors in the state of Georgia.  Archway's President is a licensed Professional Engineer (PE) with a Master of Civil Engineering degree from the Georgia Institute of Technology and its Chief Operating Officer is a Certified Professional Home Builder (CPHB) and holds a Bachelor degree in Construction Business Management.  At Archway Custom Homes, we study and apply the latest developments in home building science and energy efficient construction – each of our homes is built with "Quality that Lasts".
<a name="whyarchway"></a>
WHY ARCHWAY? – QUALITY CONSTRUCTION BUILT TO LAST!
Archway Custom Homes' founders have incorporated decades of housing industry experience and best demonstrated building techniques into the construction of each and every one of our homes.  Archway is the builder that refuses to compromise on quality. Some of these building techniques are listed below and constitute our standard building practice on every home.  We point these out so you can compare Archway to other builders.  We are confident that the value and quality built into every Archway home is demonstrable.  We encourage all perspective home buyers to speak with any of our customers.  You will find that we not only build every home with Quality that Lasts, but that we make the building process easy and comfortable for each buyer.
• 9 foot Basement foundations walls are steel reinforced and poured in place 10 inches thick (rather than 8 inches)
• 4 inch bed of gravel in all basement slabs and slab on grades to help prevent moisture intrusion
• All floor joists are engineer joists 16 inches deep (rather than 14 inches) to minimize bounce and deflection
• Structural sheer panels are used at all hinge points with full 4'x8'x7/16 inch OSB (rather than 14 inch cut pieces, if any)
to prevent racking and twisting of overall house frame
• All load-bearing walls, interior and exterior, are secured to foundations and slabs with pneumatic fasteners (rather than only exterior walls or simply nailed)
• All interior non-load-bearing walls are nailed, glued, and screwed (rather than only nailed) to the floor system to help prevent floor pops, squeaks, and bows
• All sheetrock is glued, along with being nailed and screwed to all walls and ceilings (rather than ceilings only) to help
minimize nail pops and aesthetic flaws
• Solid wood molding is used in all wet and high moisture areas (rather than MDF, fiber board materials)
to prevent swelling, mold, and mildew
• ¾ inch T&G resin injected moisture resistant subflooring glued, nailed, and, screwed (rather than ¾ inch plywood or OSB only
nailed and/or glued) to prevent twisting, swelling, and popping, for a superior solid structure
• All exterior components used for siding and cornice trim are pre-primed and/or made of rot resistant concrete or PVC based
material (rather than non-factory primed, and non-rot resistant material) to prevent long-term rot and replacement costs
• All masonry brick pockets are pre-primed prior to brick installation (this prevents brick, a moisture holding product, from direct contact with raw rot susceptible material) to prevent long-term rot and replacement costs
• All masonry areas have double layer of moisture protection barrier, first layer complete seal house wrap (whole house 100%  coverage) second layer 40 pound felt paper (rather than only one layer, and/or no house wrap) to prevent moisture intrusion, because brick inherently is a product that holds and wicks moisture
• Overall home designs that are architecturally appealing, that offer the most sought after features, options, and benefits
while maintaining key elements in the roof and drainage planes specifically designed to prevent water intrusion, such as cut in counter-flashing over bays and cantilevered areas.  Comfortable living design elements, minimum 42 inch stairways and hall spaces, large pantries, mudrooms, butler pantries, free flowing kitchens allowing for operation and use while entertaining.
*ALSO, PLEASE SEE OUR ARCHWAY ENERGY ADVANTAGE
ARCHWAY ENERGY ADVANTAGE – ENERGY SAVING AND BETTER LIVING!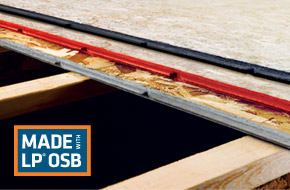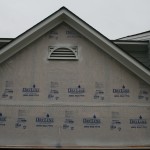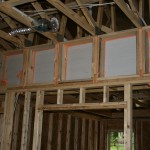 LoE(2) Insulated Windows
Whole House Sealant Package
L.P. Foil Back Tech Shield Roof Decking
13 Seer Dual HVAC Systems Sized for Ultimate Efficiency with Programmable
Thermostats (one per system – one per heated floor)
Basement Option Moves HVAC System to Basement for Better Efficiency
Double Framed Basement Walls
R-13 in all 2×4 Exterior Wall Including Basement Walls
R-19 in all 2×6 Walls and Ceilings with Living Space Above
R-30 in all Sloped ceilings and Attic
Carbon Monoxide Detectors throughout
50 Gallon Gas Water Heater
Whirlpool Energy Efficient Appliances
L.P. Top Notch Orange Resin Inject Tongue and Grove Sub-flooring, Glued, Nailed and Screwed for solidity; 50 year Warranty on Sub-flooring
Fresh Air Intake, Filtered and Distributed Throughout Home
Nibco Pex Plumbing System
Moisture Barrier House Wrap, with Sealed Seams
Exterior Vented Moisture Managing Exhaust Fans in all Bathrooms, Water Closets, and Laundry Rooms
Exterior Vented Microwave Ovens
Adjustable Exterior Thresholds
2-10 HOME BUYERS WARRANTY
2-10 Home Buyers Warranty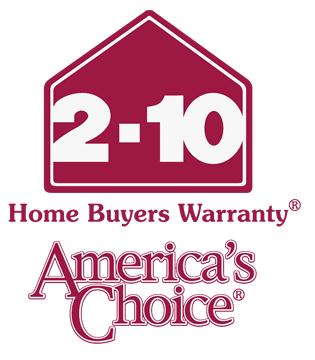 Buying a newly constructed home often becomes the most expensive purchase you will ever make and on that you will want to protect. Archway Customs Homes is a 2-10 HBW Builder and with a 2-10 warranty you can buy with confidence.
2-10 Home Buyers Warranty is the nation's leading new home warranty provider. 2-10 only authorizes new builders who have exceeded a stringent screening process for construction standards, financial stability and customer satisfaction.
The 2-10 HBW warranty offered by Archway Custom Homes gives you:
10 full years of structural defect coverage for load-bearing components
2 full years of systems surety coverage against defects in wiring, piping and duct work in electrical, plumbing, heating, cooling, ventilation and mechanical systems
1 full year of surety coverage against defects in workmanship and materials.
To download the 2-10 HBW Manual Click HERE
To learn more about the 2-10 HBW, please click the following link:
https://secure.2-10.com/homeowner/